Student Wellness Policy
The MJUSD School Wellness Council has been progressively working to bring MJUSD into compliance with The Healthy Hunger-Free Kids Act of 2010 regulation regarding the School Wellness Policy since the 2007-2008 school year. The MJUSD School Wellness Council includes teachers, parents, administrators, and district nurses.
Key Areas of our Wellness Policy
Balance is essential for any Wellness Policy. Key areas include:
Nutrition Education
Physical activity
Other school-based activities that are designed to promote student wellness.
Our Wellness Policy encourages Best Practices such as:
"School Administrators, teachers, parents, and the school community are encouraged to work together to instill healthy habits in students by enrsuring that treats, fund-raisers, and snacks are all Smart Snack compliant."
Sharing the Message of Wellness
One of our goals is to share the message of nutrition and wellness via our department's Web site emphasizing the importance of nutrition AND fitness. Our site provides information on the nutrition and fitness for teachers, parents, and students, as well as, a variety of learning tools.
Click the link below to see our School Wellness Champion Flyer:
Be a School Wellness Champion!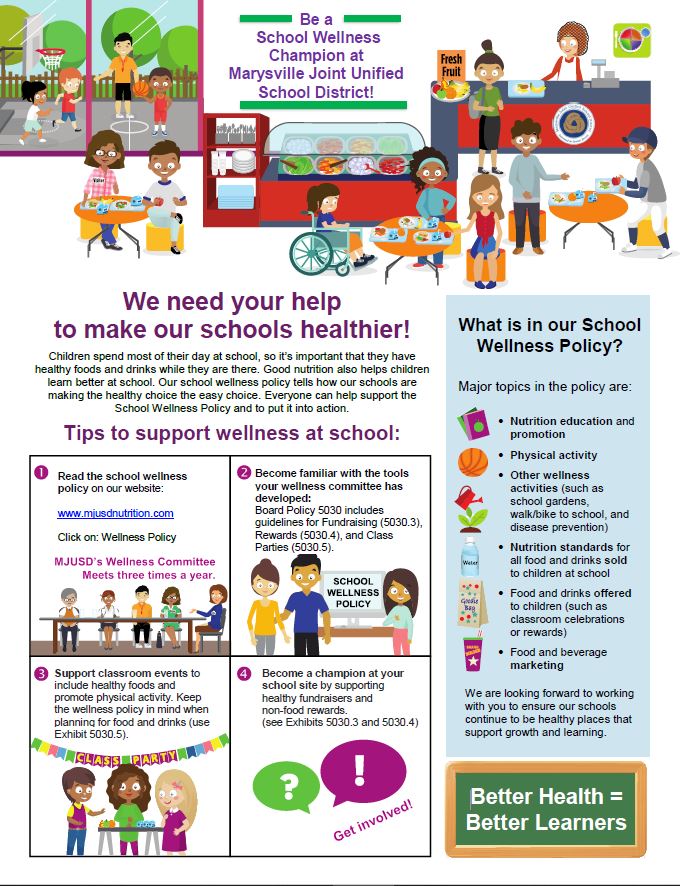 Student Wellness Policy Board Presentations
School Wellness Board Presentation - November 2016
Student Wellness Policy Documents
What is the difference between a Board Policy and an Administrative Regulation?
Board Policies- are statements which set forth the purposes and prescribe in general terms the organization and program of a school system. They create a framework within which the District can discharge the assigned duties with positive direction.
Administrative Regulations- are detailed directions developed to put policy into practice. They tell how, by whom, where, and when things are to be done.
Wellness Policy Exhi
bits
Exhibit 5030.1 Annual Wellness Policy Evaluation revised March 2019
Competitive Food Card Exhibit 5030.2
Non-food alternatives - Fundraising Exhibit 5030.3
Non-food alternatives - Rewards Exhibit 5030.4
Class Party Tool- Exhibit 5030.5